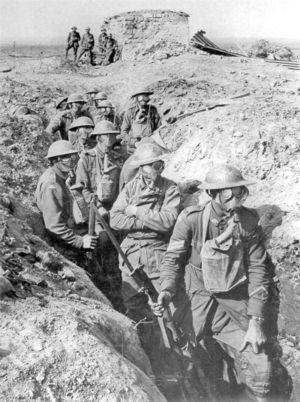 This coming November 11th is the 90th anniversary of the signing of the armistice ending
World War I
, also known as
"The Great War"
and "
The War to End All Wars
". Since there have in fact been additional wars since the original
Armistice Day
in 1918, WWI often gets overshadowed by subsequent events. A number of excellent online resources bring the magnitude and daily experience of this conflict to life.
WW1: Experiences of an English Soldier
is a daily posting of letters from the front. The solider is Private Harry Lamin, and the first letter posted is from training camp, written on February 7th, 1917. The letters are posted online almost 90 years to the day that they were written.
Start at the beginning
, and share Harry's observations and experiences as the Great War progresses.
Of course, the Library has
plenty of books
about World War I, covering all facets of the war, for all ages. To find out what the women were doing while soldiers like Harry in the trenches, check out Vera Brittain's
Testament of Youth
. We also have
DVDs, audiobooks, and VHS videos
about the war, both fiction and non-fiction. So unlike
Harry Lamin
, you don't have to wait until
Armistice Day
, or, as we call it in the United States,
Veterans Day
, to find out how the War to End All Wars ends.